Our team
The METHODS team is a multidisciplinary team comprised of epidemiologists, statisticians, mathematicians, data scientists, and clinicians from various fields (psychiatry, nutrition, respiratory diseases, digestive cancer, etc.).
Our research
Our mission is to not only rethink traditional approaches but also introduce innovative concepts and methodological strategies.
Our research is structured around 4 interconnected axes, each led by experts in their respective fields:
Building evidence (Leader: Viet-Thi Tran)
We pioneer novel methodologies for generating comprehensive and robust evidence.
Personalised Medicine (Leader: Raphaël Porcher)
We explore innovative approaches to cutomize medical interventions to individual patients, optimizing their chances of success.
Evidence synthesis (Leader: Anna Chaimani)
Our team specializes in the synthesis of various research findings, providing valuable insights to inform clinical decision-making.
Research on Research (Leaders: Isabelle Boutron, Philippe Ravaud)
We delve into the field of meta-research, investigating methodologies and exploring novel research approaches to improve reliability and reduce waste in research.
The team is backed by the French EQUATOR Centre (lead by P. Ravaud) and Cochrane France (led by I. Boutron) giving it a strategic position at the international level.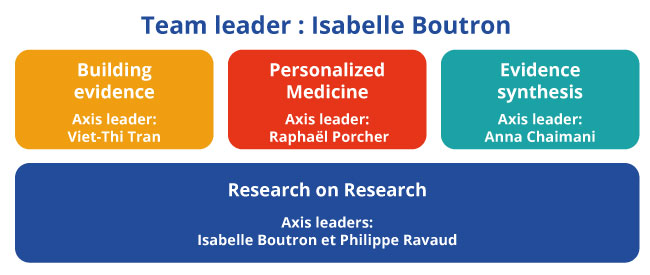 Our expertise
Our team is internationally recognised for its expertise in:
Citizen Science: We lead the transition from a model where research decisions are made by a small group of individuals to a model where all healthcare actors contibute, including patients and health care providers. We are pioneers in using Citizen Science methods to develop Core Outcome Sets.
Digital Health: We explore methods for assessing digital health interventions, particularly digital therapeutics and 'just in time adaptive interventions' (JITAI). We are investigating ways to move toward integrated digital patient-centred care. Furthermore we are leading the academic component of @Hôtel-Dieu, an ambitious public-private partnership aimed at developing an interface between public organisations and technology start-ups.
Personalised medicine: We develop innovative methods to identify patients more likely to benefit from treatments, taking into account safety and efficacy and conceive clinical trial designs for personalised medicine.
Innovative study designs: We developed the CORIMUNO platform, in which 12 randomised clinical trials were conducted (1238 patients, 34 centres). We also conducted a series of emulated trials using routinely collected data to assess the efficacy of compassionate drugs (e.g., hydroxychloroquine was evaluated before the results of the first randomised trials were available).
Evidence synthesis, network meta-analysis (NMA), and living evidence synthesis: We develop methods to account for different types of studies (e.g. randomised trials, observational studies) and the temporal evolution of treatments. We led the COVID-NMA international initiative to provide a living mapping and a living evidence synthesis of trial evidence updated in real time (>800 trials analyzed). The platform was endorsed by the WHO and identified as a robust source of information for clinicians and policymakers in the  Lancet Commission on lessons for the future from the COVID-19 pandemic.
Interventional Research on Research: We explore ways to transform research planning, conduct, and reporting, as well as the peer-review process. We were at the forefront of exploring the concept of 'spin' (i.e., distorted reporting and interpretation of research results) and are internationally recognised for our work dedicated to open science through the development and implementation of reporting guidelines to improve research transparency and reproducibility (e.g., CONSORT Statement).
International collaborations
We maintain strong collaboration with several outstanding teams and we are actively involved the steering committee of international networks, including:
The EQUATOR - Enhancing the QUAlity and Transparency Of health Research - network
The SPIRIT-CONSORT steering committee
The Cochrane Bias Methods Group