Our mission
CRESS is an internationally renowned centre for Research in Epidemiology and Statistics.
Our mission is to study and understand population health and its determinants across the lifecourse (from conception to ageing), develop innovative methods and design and evaluate interventions to improve clinical practices and public health policies.
Our values

At CRESS, we are committed to fostering a vibrant and dynamic community, driven by the following core principles:
Scientific Excellence and Innovation:

We strive for scientific excellence and encourage innovative approaches to address the pressing challenges in public health.

Collaboration

: We believe in the power of collective intelligence.

Interdisciplinarity

: We

seize opportunities

enabled by technological developments by embracing interdisciplinary perspectives, fostering creativity, and pioneering new approaches.

Research Integrity:

Through a culture of continuous evaluation and improvement of our research practices, we maintain the highest standards of research integrity, promoting robust, transparent, reproducible, open, and sustainable research.

Commitment to Real-World connections:

Our research is deeply rooted in real-life contexts, driven by strong links with society, patients, hospitals, and public health stakeholders. We are dedicated to making a tangible impact on clinical practices, research methodologies, and national and international healthcare policies.

Diversity: We celebrate diversity by attracting talents from diverse backgrounds and areas of expertise, recognizing that diversity enriches our collective experience.
Leadership Development: We are committed to building the next generation of leaders in Epidemiology and Statistics. This commitment ensures the ongoing influence and legacy of CRESS in shaping the future of public health research.
Member Well-being and Fulfilment: We acknowledge that the well-being and fulfilment of our members are paramount. These factors form the cornerstone of our cohesion, creativity, and the overall quality of our research.
Obstetrical and perinatal epidemiology
Paediatric epidemiology
Childhood cancer epidemiology
Nutritional epidemiology (child and adult)
Epidemiology of early origins of health (DOHad)
Life course epidemiology
Epidemiology of ageing and neurodegenerative diseases
Epidemiology of multimorbidity
Clinical epidemiology in rheumatic and musculoskeletal diseases
Environmental epidemiology
Biostatistics, artificial intelligence and machine learning
Interventional epidemiology
Therapeutic evaluation
Novel clinical trial designs
Causal inference methods
Trajectory analysis
Analysis of complex systems
Digital health
Personalised medicine
Evidence synthesis
Citizen Sciences
Research on Research
Open science
We optimize existing methods, develop innovative approaches, and adapt new methods to the field of health.
Our history
CRESS is affiliated with four supervisory bodies: Université Paris Cité, Université Sorbonne Paris Nord, Inserm, and INRAe.
Over the past 10 years CRESS has been led by Philippe Ravaud, with the support of Stéphanie Chardon, the general secretary. It is one of the largest accredited research centers dedicated to research in epidemiology and statistics in France.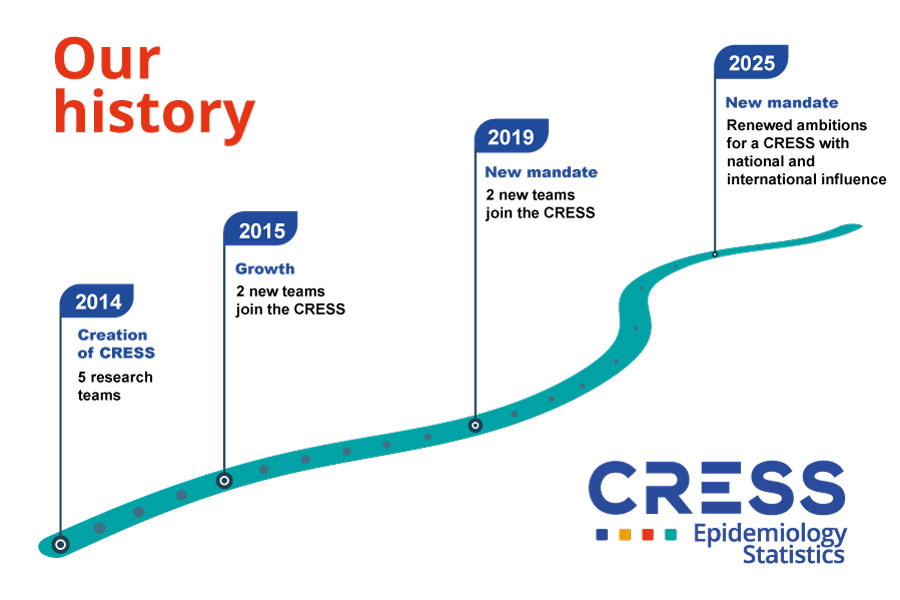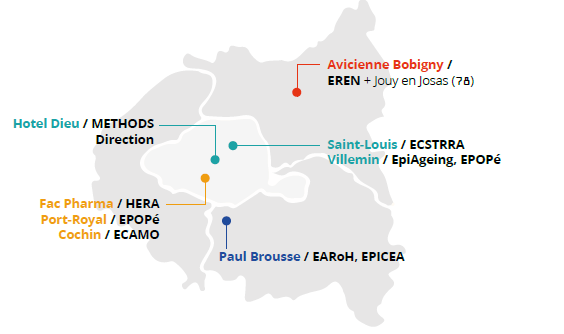 Locations
CRESS is headquartered in central Paris at the Hôtel Dieu, with teams located at various hospital and university sites.