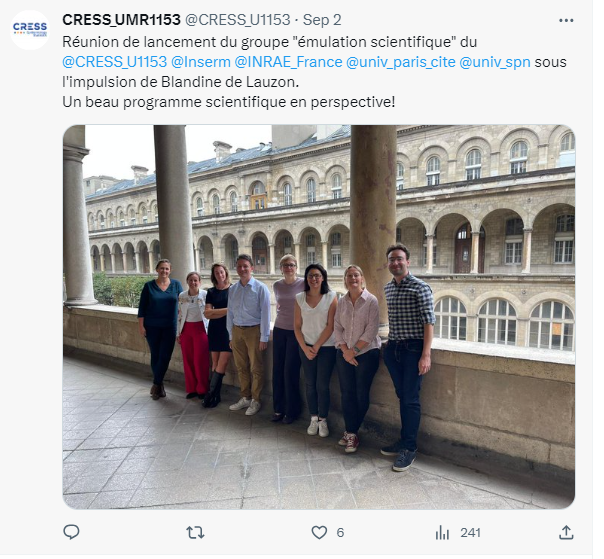 Participants:
Blandine de Lauzon-Guillain (host)
Anne Chantry
Elie Azria
Bernard Srour
Jérémy Vanhelst
François Petit
Astrid Chevance
Alexandra Roren
Audrey Bonaventure
Frank van der Heide
Aline Dugravot
Layla Vazifeh
Alice Hocquette
Anne Chantry
Manik Kadawathagedara
Launch meeting of the scientific emulation committee on August 31, 2023
During this launch meeting, the committee chose to maintain the CRESS scientific seminars on Thursdays from 12 p.m. to 1 p.m., approximately every 6 weeks. Several dates have been set, and the program will be announced ahead of each seminar.
On 09/21 a seminar took place, with the presentation of the depression cohort and call for collaboration, by Astrid Chevance.
Over the period October 2023-January 2024, the interventions will be presentations of the new arrivals.
From the second quarter of 2024, the topics of the seminars will be more classic, with the presentation of the teams.
Concerning the seminar/working group for collaborations with Inria at the end of 2024, and the one focused on personalized medicine during March-April 2024, the committee indicates that there is little feedback on these two proposals.
Other perspectives were discussed: discussion of projects currently maturing with other CRESS researchers and preparation for the 10th anniversary of CRESS