The SUpplémentation en VItamines et Minéraux AntioXydants (SU.VI.MAX) study is a randomized, double-blind, primary prevention intervention trial designed to test the efficacy of daily supplementation with antioxidant vitamins and minerals in reducing the incidence of cancer and ischemic vascular disease in the general population.
Subjects residing in France (women aged 35-60 and men aged 45-60) were selected from 79,976 volunteers following a 5-month national multimedia campaign (March-July 1994). 13,017 subjects were randomly assigned to one of the groups.
Supplementation consisted of a combination of 120 mg vitamin C, 30 mg vitamin E, 6 mg beta-carotene, 100 µg selenium (as selenium-enriched yeast) and 20 mg zinc (as gluconate) or placebo in a daily capsule.
At inclusion and 12-18 months later, participants were invited to visit a mobile medical unit or health prevention center. Subjects were asked to fill in a monthly questionnaire on treatment follow-up and health events by Minitel (computer terminal enabling connection to the French Videotex service via the telephone network), internet or post.
The primary endpoints were major vascular events (ICD codes 120-124) and cancers of all types except basal cell carcinoma of the skin. The secondary endpoint was all-cause mortality. After a mean follow-up of 7.5 years, comparisons were made between the 2 groups.
Main study results:
Hercberg S, Galan P, Preziosi P, Bertrais S, Mennen L, Malvy D, Roussel AM, Favier A, Briançon S. The SU.VI.MAX Study: a randomized, placebo-controlled trial of the health effects of antioxidant vitamins and minerals. Arch Intern Med. 2004 Nov 22;164(21):2335-42. doi: 10.1001/archinte.164.21.2335. PMID: 15557412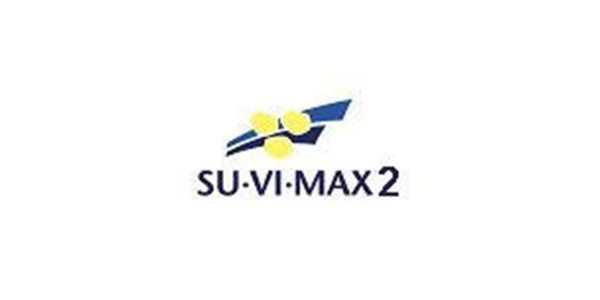 Including adults from the SU.VI.MAX cohort, the main aim of the SU.VI.MAX2 study is to investigate the relationship between overall dietary behaviour (food typologies) and/or specific nutritional factors (antioxidant, folate, w-3 PUFA intakes and status, energy and protein intakes, etc.) assessed from data collected in 1994-1996 (during the baseline assessment of the SU.VI.MAX study), on a large population of middle-aged adults, and the overall quality of ageing of this population, assessed 10 to 12 years later.
A questionnaire and a clinical-biological assessment were used to collect data on cognitive functions, mood, nutritional status, bone condition, balance disorders, sensory disorders, perceived health, social integration, mobility and physical performance, and the existence of pathologies. In addition, a neuropsychological assessment was carried out by professionals recruited by the coordinating team.
The study involved 7,000 subjects from the SU.VI.MAX cohort: 3,500 women aged 55 to 70 and 3,500 men aged 55 to 70, who volunteered to take part in a post-supplementation follow-up.
.