Research on European Children and Adults born Preterm (RECAP Preterm)
The overall aim of the RECAP preterm project is to improve the health, development and quality of life of children and adults born very preterm (VP), i.e. less than 32 weeks of gestation, or with a very low birth weight (VLBW), i.e. less than 1500g.  We will investigate the origins of VP/ VLBW health and developmental outcomes to aid the development of more effective, evidence-based, personalised interventions and prevention measures.
The RECAP preterm Cohort Platform, will bring together extensive data from 23 population-based cohorts of children and young adults born very preterm from 13 European countries as well as further cohorts from around the world.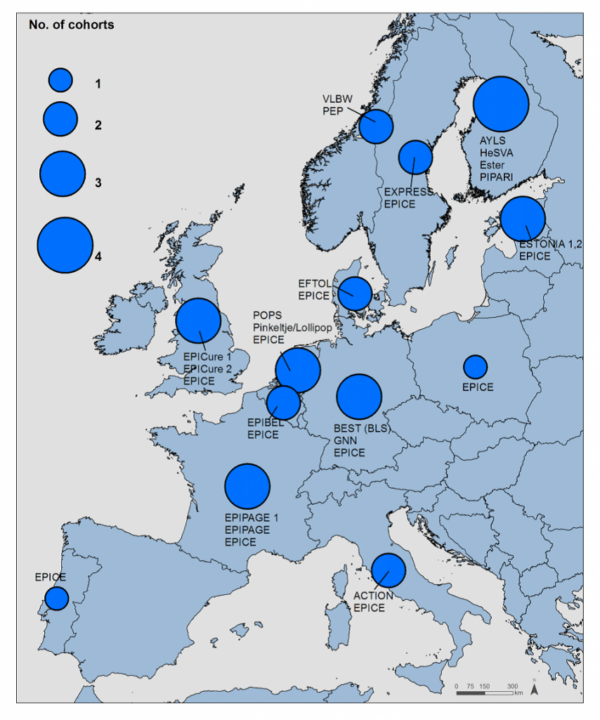 Objectives
to create a sustainable, geographically diverse and multidisciplinary platform of national and European cohorts of VP/ VLBW, constituted over a 30 year time span, to optimise the use of population data for research and innovation in healthcare and policy
to develop hypothesis-driven research on health and care of VP/ VLBW children and adults that builds on the unique opportunities provided by the larger sample sizes of combined cohorts and the added value of their geographic and temporal diversity
to integrate exchange with stakeholders into the platform in order to disseminate results, to translate them into evidence-based care and policy
to involve society and emphasize patient and public involvement in order to reflect real-world needs
This unique network will enable us to evaluate changes in outcomes over time while providing important information on how the evolution in care of these high-risk babies has changed their developmental outcomes and quality of life.
Project coordination
The project coordination is ensured by the coordinator (TNO) in tandem with the Project Management Office (TNO, UoW and INSERM).
Funding
This project has received funding from the European Union's Horizon 2020 research and innovation programme under grant agreement No 733280.
Project Participants
RECAP preterm brings together 20 transdisciplinary Institutions (see participants below).
TNO
UoW
INSERM
ISPUP
MedLaw
INESC TEC
ULEIC
THL
EFCNI
NTNU
KI
UKB
UH
OPBG
HH
UMR
UTARTU
UA
Concentris
ExtensiveLife
Netherlands Organisation for Applied Scientific Research, Netherlands
The University of Warwick, UK
Institut National de la Santé et de la Recherche Médicale, France
Institute of Public Health of the University of Porto, Portugal
MedLawconsult (Van Veen, Toegepast Gezondheidsrecht), Netherlands
Instituto de Engenharia de Sistemas e Computadores, Tecnologia e Ciência, Portugal
University of Leicester, UK
National Institute for Health and Welfare, Finland
European Foundation for the Care of Newborn Infants, Germany
Norwegian University of Science and Technology, Norway
Karolinska Institutet, Sweden
Universitätsklinikum Bonn, Germany
University of Helsinki, Finland
Ospedale Pediatrico Bambino Gesú, Italy
Hvidovre Hospital, Denmark
Philipps Universität Marburg, Germany
University of Tartu, Estonia
University of Antwerpen, Belgium
Concentris research management GmbH, Germany
Extensive Life Oy, Finland